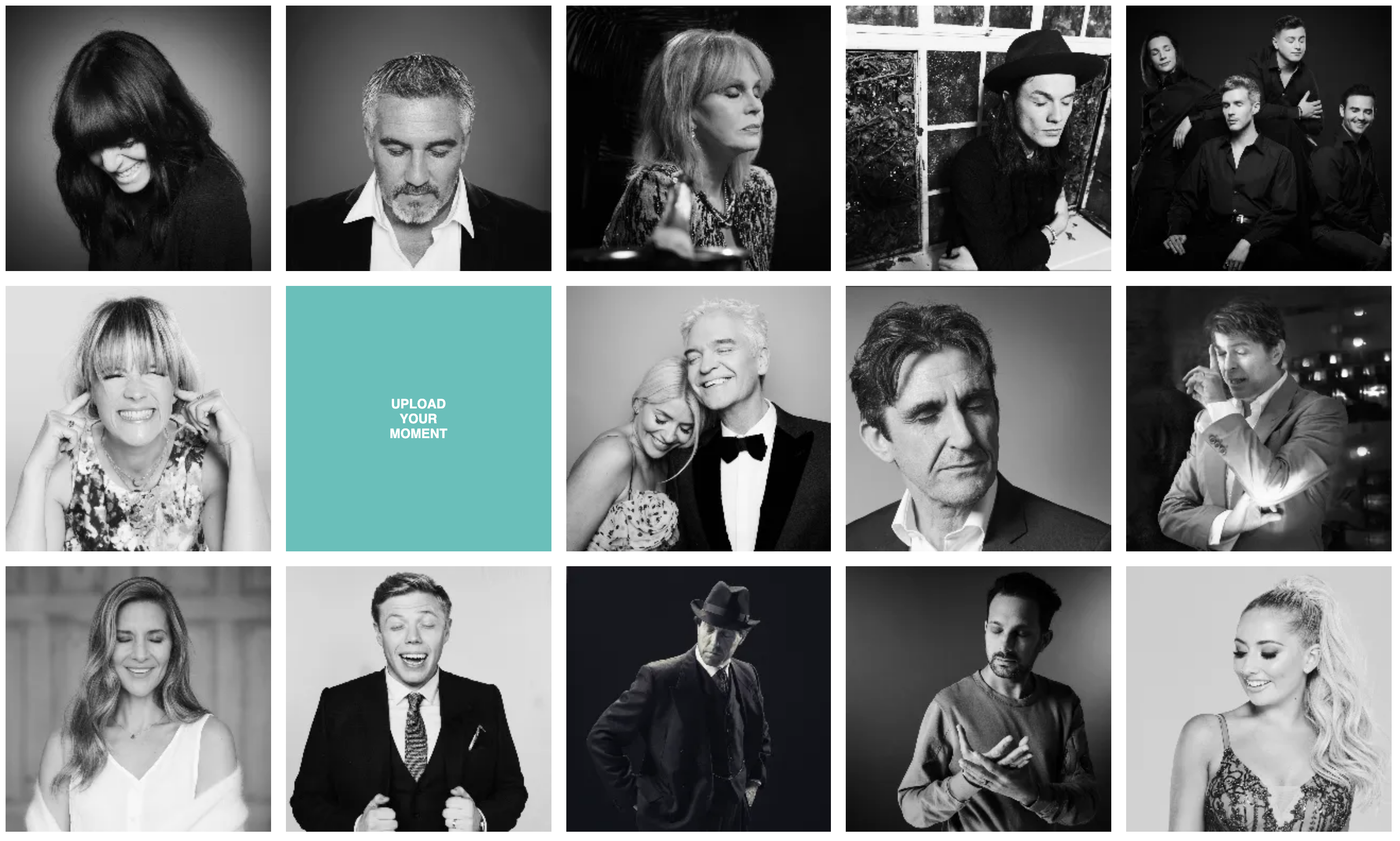 Take a Moment campaign in support of Mind
Posted by

Date

October 28, 2020

Comments

0 comment
Today I would like to point you towards a great online photo exhibition in collaboration with the general public too (great use of technology for social good and for mental health, of course, with over 1,000 people participating in it).
It's "Take A Moment" in support of Mind:
"Over 250 personalities have endorsed the use of their pictures by Ray Burmiston for the Take A Moment exhibition including Mind's President Stephen Fry. The collection has been curated from a decade of outtakes from Ray's studio, hundreds of moments where he asks his subjects to close their eyes for a few seconds, to refresh their connection with the camera, capturing powerful moments of self-reflection. And now, mashed together with your selfies, Ray hopes it will expand from hundreds of photos to thousands of photos and promote the message: 'we're all in this together', whilst raising vital funds and awareness for leading UK mental health charity, Mind."
I volunteer for Mind and I am an exhibiting photographer so this one is very close to my heart. I am also fascinated by the stillness, silence and connection with ourselves. So much about this project resonates with me personally, but I am posting this today simply to point out the kindness of all people involved. It takes a lot to share such intimate moments, and for the artist to share his unique habit during his photoshoots – all of this for a great cause:
"The other thing that happens is a moment when I ask my subjects to close their eyes to refresh the connection with the camera. This is always a welcome break, as shoots like these can be very demanding, and so I would sometimes suggest they take themselves off, eyes closed and elsewhere. The shutter never stops though and the result when I was archiving my work not long ago was a collection of portraits that resonated with a different energy echoing that moment between the exhale and the inhale when just for a second or two, everything is still."
To open it up to the public is even better – it makes everyone equal, involved and precious. We are all humans and we all need a moment to stop and rest.
Check out the main website here, photographer's blog post here and for more updates their Twitter, Facebook and Instagram.