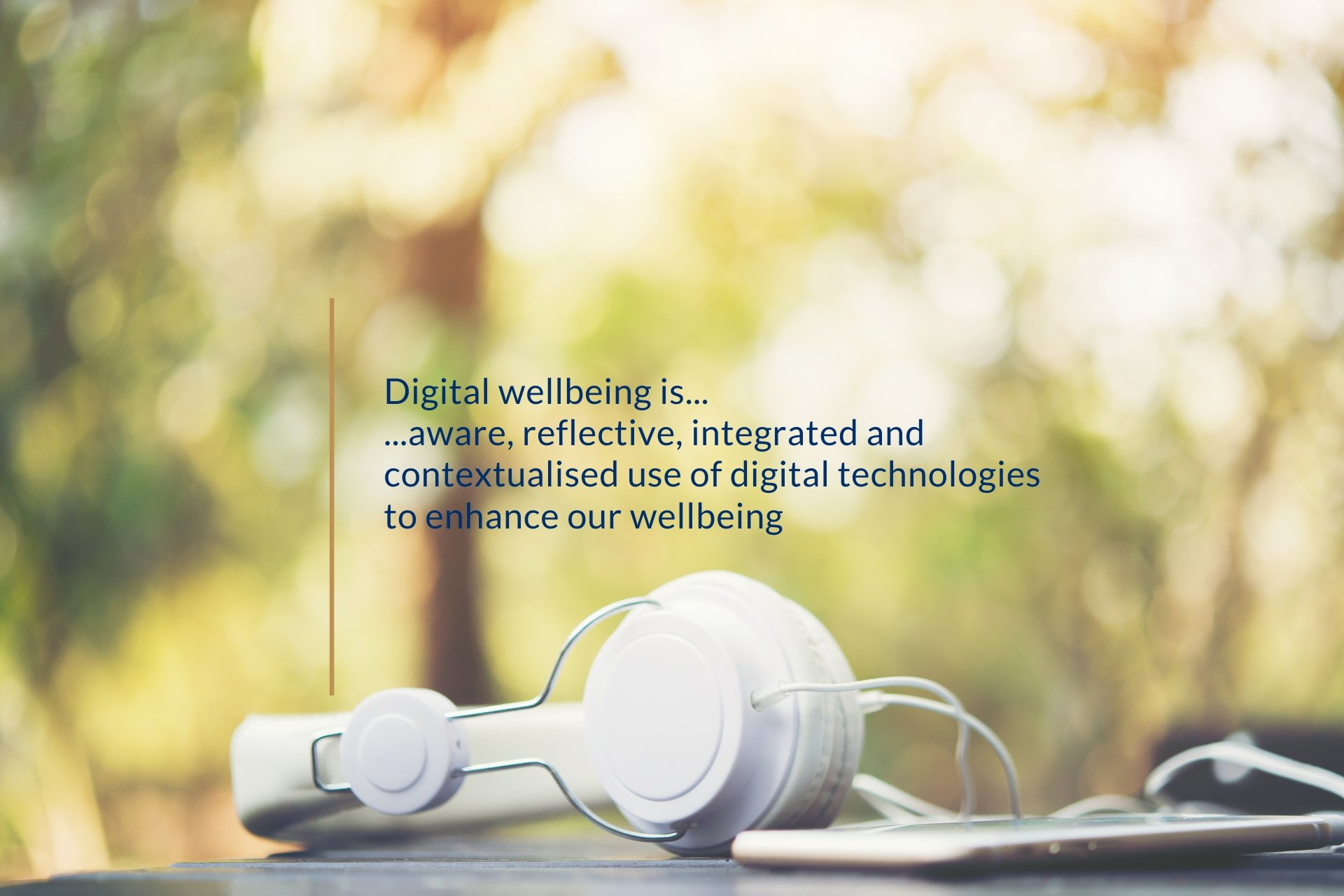 What is digital wellbeing, and what it is not
As I was planning our AI experiment, I asked the open AI for the definition of digital wellbeing:
"Digital wellbeing is the practice of using technology in a healthy and balanced way. It's about being mindful of the time spent online, understanding the potential risks of using digital devices and taking action to ensure positive digital experiences. Digital wellbeing can be achieved through setting healthy limits on device use, using digital devices with purpose, being mindful of online relationships, and promoting digital citizenship. With the right practices, digital wellbeing can help to create a positive digital environment and foster healthy relationships between individuals, their devices, and their digital world."
This description of digital wellbeing results from extensive data collection from humans, so it represents what many people think indeed. However, I was very surprised to read such a balanced view. You see, many of my clients and people I meet in private life every day tend to share strong assumptions about digital wellbeing – views based more on myths, misguided media opinions and biased research designed to scare us more than truly help our wellbeing.
The words "digital" and "wellbeing" hardly ever show up in one sentence because we prefer to complain about screens (instead of planning our Zoom calls wiser), games (instead of enjoying play time) and social media (instead of curating our networks to feel safe and supported in those online spaces). Instead, we assume that everyone feels the same: we hate anything to do with technology. But here is the news: digital technologies are not going anywhere, so this negative attitude is not helpful, to say the least.
Let me explain.
Here are some of the main things people think I do as a digital wellbeing practitioner:
help young people get offline and go out to socialise IRL (in real life),
help professionals spend less time on screens, especially in Zoom calls,
help people detox, and spend less time on their smartphones, preferably in Nature instead
Here is what I think should be happening:
parents should have more time to spend time with kids, councils should offer more youth clubs and other activities for young people to socialise safely in real life, and then we can talk about how much online socialising (which is also REAL) would be healthy – for now, this is the only way kids can socialise without having to hang out in shopping malls
professionals should have firmer boundaries about Zoom meetings allowing more time to rest from screen work, while employers should think harder about the number of meetings needed in the first place and maybe encourage effective email/Slack communication and collaboration instead
digital detox – when done well – can be fantastic, and I do encourage spending more time in Nature; however, if we don't finish off our work and plan for time off, we may come back to a long list of to-do emails in our inbox, and that can be stressful, so I prefer to work with my clients on productivity and more effective time management so that a detox is not needed in the first place.
In one of our Instagram campaigns in the summer of 2021, I decided to write more about digital wellbeing misconceptions. So here is a reminder of what digital wellbeing is and is not.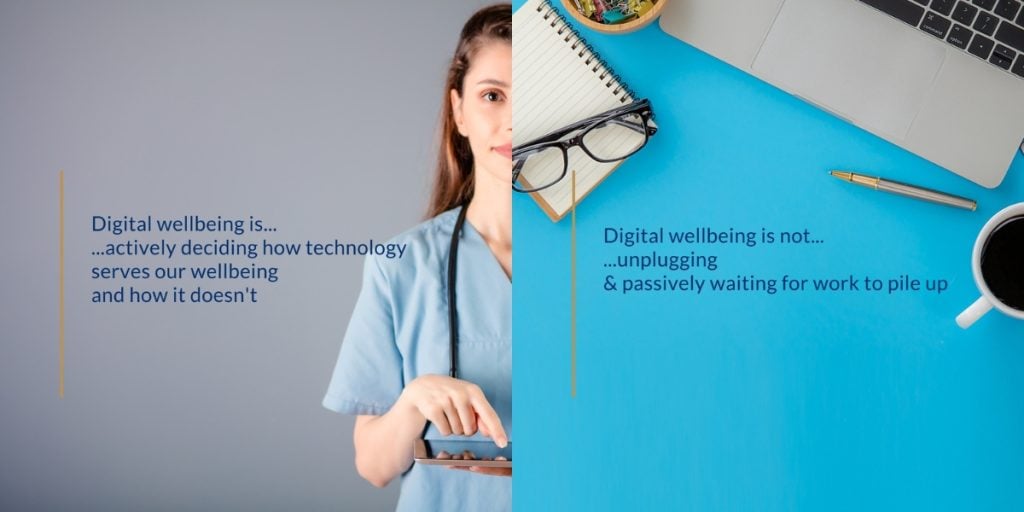 Facts are…complicated. And we do not like that. We prefer simple answers. To keep safe, we prefer to follow the lead of our tribe, repeat mental memes and believe what is being said.
However, I also asked the key question: what if good digital wellbeing was possible and what if it was actually quite simple?
What if we could make choices in a balanced way and reflect on the actual impact of tech on our lives instead of making assumptions based on the media narratives that hope to scare us? Digital wellbeing is easy, you see. We know what is good for us, so instead of escaping reality, we need to embrace digital tech and choose wisely how it can serve us. That's all. It's actually pretty simple.
Working as a digital wellbeing consultant, coach and counsellor, I come across the idea of completely unplugging almost all the time. The conversations around digital wellbeing are almost fixated on the idea of switching off the Internet…as if our online identities and belongings were clearly defined online and very separated from our offline reality.
Well, that's simply not the case. Our brains perceive online experiences as real as offline ones. We build valuable relationships and nurture them offline and online. We feel, think and communicate in a multitude of realities that by now are very tightly interwoven, so I fail to see how unplugging and waiting for the work, messages and information to pile up would help.
What is the alternative, you say? It's not rocket science, but we need to accept that the online parts of our identity, connections and behaviours matter. Then we can look across all those signals, organise ourselves, plan transitions, explore the impact and make some very well-informed choices about what it really means to take time off… and what we are unplugging from.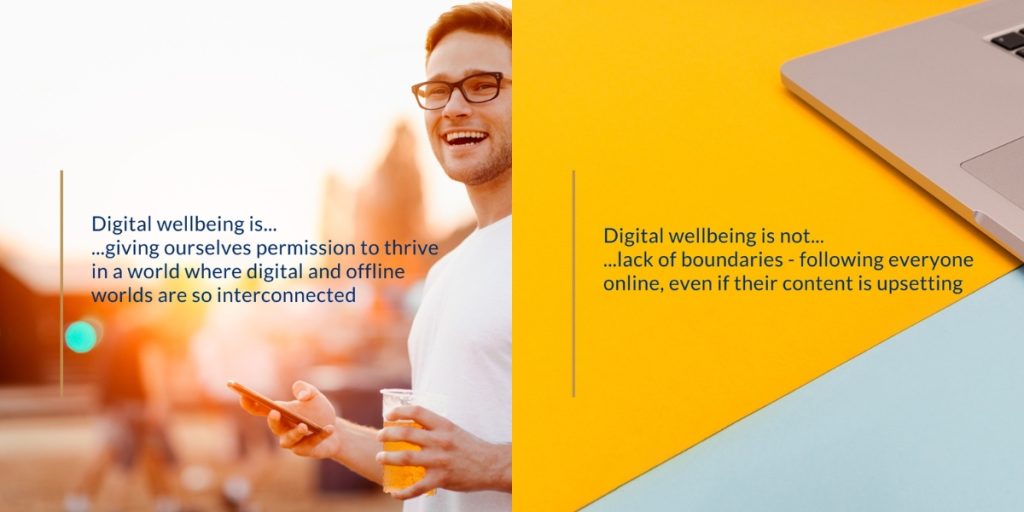 Our online and offline experiences are interconnected. Digital is part of our reality – it's not out there, but here…honestly, it's been here long enough to take it seriously instead of demonising it. What do you see in this picture – a person addicted to his mobile phone or a person who is having a lovely time with their friends and sharing it with their partner who has a moment to check in via Facetime during busy work shifts? What you see is your choice.
Have you ever considered that the only thing that stands between a good, healthy experience of digital spaces and you is…you? Have you considered taking responsibility for your choices and giving yourself permission to be well, thrive even?
The social web, the Internet, has so much to offer if we only accept the possibility of it instead of fixating on risks alone. Someone said to me recently: 'life is full of risks and trauma from the day we are both, yet some of us manage to be well and happy' – so maybe we already have the answers; we need to choose to be well first and start healing, as well as asking for appropriate support for our digital wellbeing.
Most mainstream articles blame social media platforms for the mental health state of our nation. Now, aside from a simplified, unsupported argument about mental health in general, we need to start thinking about how the social web actually works.
Yes, Facebook, Twitter, and Instagram do track your behaviour and serve you relevant content. Yes, mainstream media outlets are using social media to disseminate their information, targeting echo chambers. But echo chambers are not a digital discovery – we all socialise in tribes, we navigate towards people who share our views, and we like people who are similar to us. That is how humans are wired, not the web.
Today I want to remind you about human boundaries. Good studies show that our tendencies to navigate towards upsetting content increases when we are unwell, so it is incredibly important to curate (aka choose wisely) the sources online. If you feel unwell due to the content or people you experience online, it's time to rethink your sources and your tribes.
Yes, this might mean connecting with toxic families on Twitter while sharing sensitive news in a more private Facebook space (or vice versa – whatever works for you and keeps you safe). Stay wise and take charge of your digital wellbeing.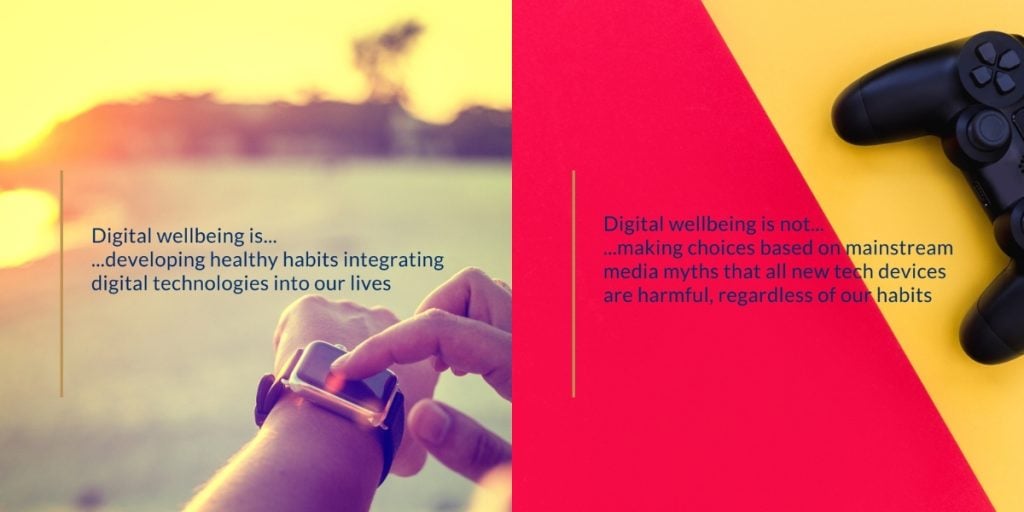 The first thing I do with my clients is to ask them to make a list of the benefits of using digital technologies. This might take a while as those technologies (systems, devices) are all around us. They are so seamlessly integrated into our reality in 2021 (in most parts of the world) that oftentimes we do not even notice them. So let's start to think about how to manage and nurture our digital wellbeing.
So sit back, take out a sheet of white paper and start listing them: technology and the benefit to you (your physical, mental and social health). Challenge yourself to list ten, then maybe even fifty. See what comes up for you.
Once you find the benefits, then list the challenges. The habits that need improvement will sit somewhere in between, and so then the real digital wellbeing work begins.
Don't forget online gaming – the addictive monster of our modern times! We cannot even talk to our kids anymore. Our partners are glued to the screen and controller. Our family time is pretty much gone.
But is it? And if so, why? Have you ever considered why we – adults (because it's not the young people alone who love online gaming, let's face it) and young people – navigate towards online gaming? In the exploitative economy that hardly allows time to stop, think, feel or rest, we NEED to play. Play means rest, connection, collaboration, even…FUN! When we get a dopamine hit (not due to the game mechanics but because, as humans, we all enjoy a little bit of self-chosen challenge and success), we are…happy. At the end of a long day, we enjoy being happy, meeting friends online or joining in the game in the same house.
Why is that not family time?
You see, what happens here is again the strange divide between online and offline. We tend to focus more on the device and software itself, not the nature of our behaviours. And sadly, the fact that we like to come back to gaming reminded us initially of addictions (yes, we may have a dopamine boost, but is it harmful, really?), and so by now, most, even very established psychologists will support the assumption that gaming is severely addictive.
If you are interested in this area, do look up the definition of gaming disorders (you need to be dysfunctional for at least six months, suffer significant health imbalance, and notice significant challenges in relationship building and self-care for your gaming behaviours to qualify as an addiction – and even this is still to be researched), but please do not overuse the term 'addiction'.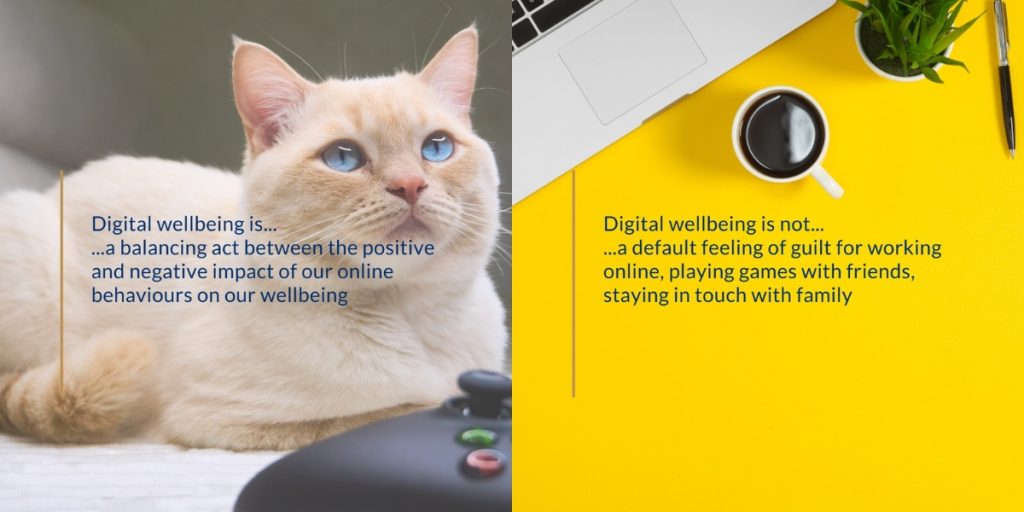 Often when I introduce myself and start talking about the positive impact of digital on our wellbeing, people call me (aka class or label me – which I do not like) as an optimist. When in actual fact, I am not a digital wellbeing optimist at all. I am an optimistic sceptic if you ask me.
I have seen what marginalised, isolated or otherwise offline vulnerable people experience when joining online spaces. We know that online women receive more abuse (just like offline, sadly). We know online racism is terrible, and many perpetrators hide behind the anonymity of the screen, and it can escalate ever so easily. On the other hand, those acts of abuse are witnessed, recorded and easier to report than a comment made behind closed doors in a line management meeting.
So here is the core of digital wellbeing. It is not a static state of right or wrong. This is not a battle between good and evil. This is life, and life is complicated. Digital wellbeing is a process of active, ongoing series of choices we need to make to keep ourselves safe and well. Choices about our own wellbeing and that of others.
So many aspects of our digital activities generate guilt these days. Someone said to me: shame is our internal critic, and guilt comes from outside. So, where does this digital guilt come from? Why do we feel so bad about every single email, Facebook message or tweet? Why do we cringe when sitting down at our laptops to work?
First of all, there is context. Is it because of the devices and the Internet, or maybe the larger context of our lives? So ask yourself: do you like your job? Does that have an impact on how you feel about opening emails?
Secondly, there is a mainstream narrative about technology in general. Most of us hate it. It is a bold statement but just open the news. What do you see? Listen carefully to the sentiment of conversations about social media. What do your friends say, and how do they feel? We have spent too much time assuming our digital activities are harmful; we hardly ever think clearly and critically about it.
So here is a proposition: spend a day, or a week even, making only positive comments about digital experiences, identifying where the guilt is really coming from and reframing your experiences from negative to positive ones. We do not want to fall into another extreme, but we need to do this to balance out the negative tech bias. How do you feel at the end of that day/week about your digital wellbeing? What complexities come up for you? What is actually harmful, and what can you improve?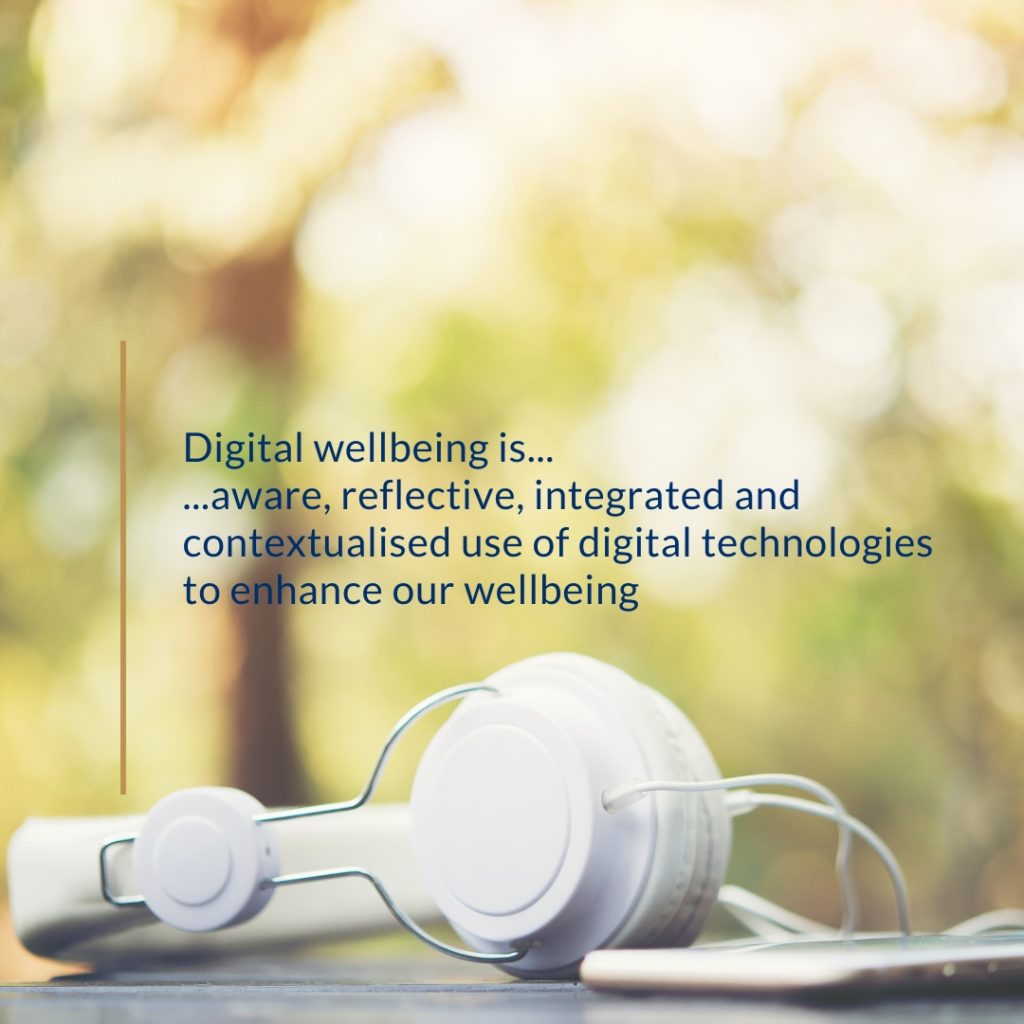 So here is the summary of what I think digital wellbeing can be:
exploring and shedding your negative tech biases,
contextualising how digital technologies show up in your life and what is their actual impact on your life, health and wellbeing,
educating yourself to make more informed choices and not follow deeply embedded myths,
integrating digital into all other aspects of your life in a balanced way,
awareness – waking up to the possibility of thriving in the digital world.
I hope this write-up will inspire you to start thinking about your digital wellbeing seriously and take a few first steps towards a better life balance in the digital age. Let us know your thoughts in the comments section below. 
If you find this article useful, please share it with others who may benefit from it.
(Images via Canva Pro)