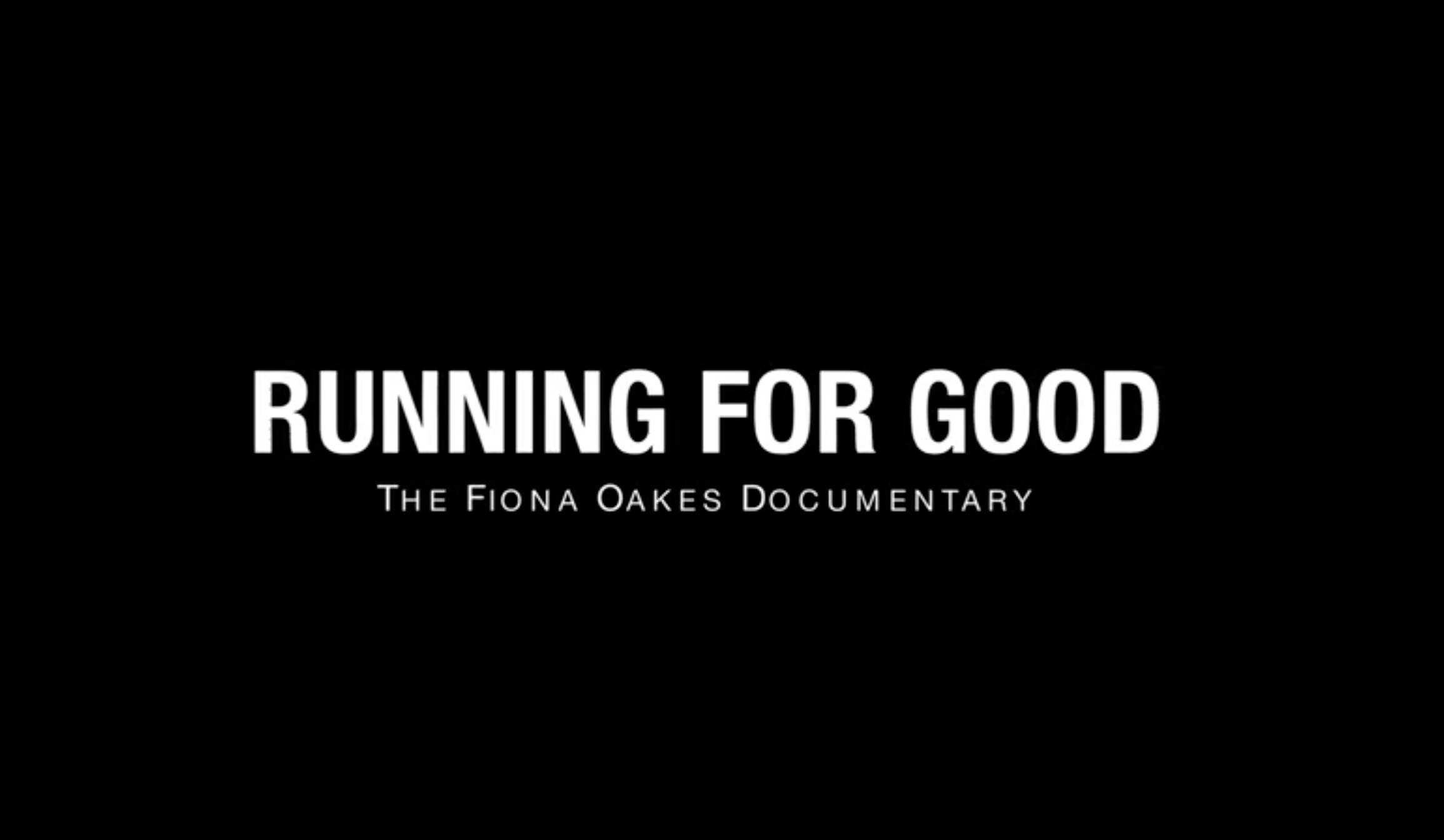 The power of human connection
Posted by

Date

June 28, 2020

Comments

0 comment
Now and again I plan to share my personal stories here, on Voxel Hub blog, if I feel that they serve as a good example of the positive impact of digital technologies.
Today I would like to mention the power of human connection facilitated by the Internet. A few weeks ago I have finally started morning running. Fitness and general wellbeing have been a challenge for me and now, that I am preparing to start the advance diploma in counselling, I have dedicated the entire 2020 to physical health. I have worked in early spring and summer on my diet and slowly, gradually moved towards a more active lifestyle. I have lived over 40 years relatively healthy with a strong body and occasional dips or increased in body weight. I have never jogged or did any other sports. I move a lot – I walk, I garden, I have a Springer Spaniel. Up until this June, I hated running.
With my core intention this year to get better at sports and build them into my daily self-care practice (an incredibly important area for a coach and counsellor), I have tried everything. I started tracking my activity levels on my Apple Watch and Strava app. I read many books about the psychology of movement. Kelly McGonigal's "Joy of Movement" came out just in time for me. I used CBT practices for diet and activity levels. I recruited friends to be my fitness bodies and since the lockdown introduced weekly checking with them. Still, I could not get my feet out of the house for a run.
Losing a close friend to domestic abuse and watching the Colston's statue fall in Bristol changed something in me. I became very aware of my own freedoms and privileges, but also angry about the continuous inequalities. From one day to another I started running. I posted about it and about my anger. I made a promise to myself to run every day until I die. I am sharing this because it is important for my weekend story.
The second week of my running was harder. Once you move beyond learning to run safely (yes, we do have to learn this stuff), my mind started playing tricks on me. My body started feeling the pain of the new running, yoga and cycling rituals. I suffered. And so I decided to use the most powerful tool that always works for me – looking for role models. I opened up my Amazon Prime video dashboard and typed in "running".
The first movie that came up was the story of Fiona Oakes, "Running for Good". It made me cry all throughout – in happiness, in awe, in amazement….and possibly also in relevance. There is nothing in Fiona's journey that would not grab a viewers attention – she is kind, humble, hard-working, dedicated to her vegan lifestyle and to saving animals, while also determined to use running and her multiple titles to raise awareness too. I was personally touched by the level of challenges she had to but also chose to face. I was moved by her awareness of being a woman in a sport which only recently invited us to participate. She is also very aware of the costs of corporate sponsorships and media coverage.
Everything about Fiona inspires me to run but also to continue with my own cause – to remind people that when using digital technologies we do have a choice and we can be well, better off. We just need to make informed choices, practice our freedom to access to information and hold powers at play more and more accountable.
I watched the documentary. I learned a lot about the power of running and powerful women too. But this is not the end of my journey with Fiona's story. I then went online to find out more about her Sanctuary. The well set up fundraising options led me to an Amazon wish list so I purchased few small items for her animals (really not much at this stage, I hope to help more in the future). With a few clicks, I could make a small difference.
Then I went to find her on Instagram and say thank you. I left a comment. As it happened, my new shoes arrived so I regretted buying them somewhat knowing that the purchase of Fiona's brand supports her work. However, I decided to make that my next milestone reward and posted a shoeselfie with a note about Fiona and her important work. My note on recent illness prompted a lovely comment from Fiona, which made me smile.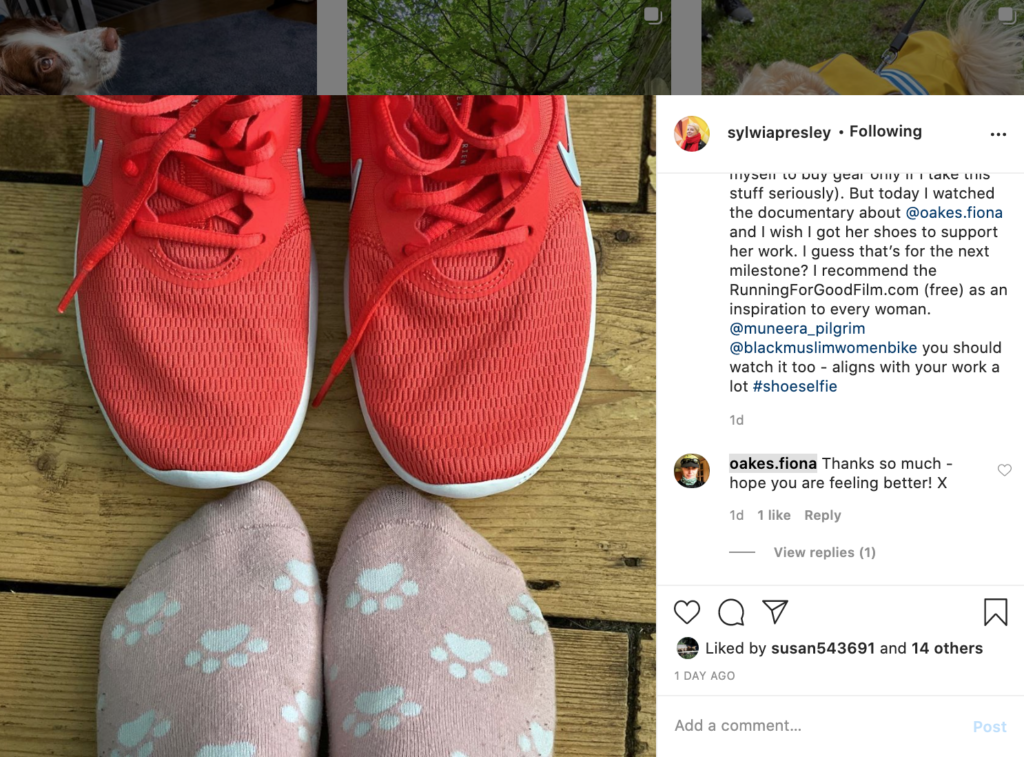 Today I feel a bit better. I cycled 15 km, went for my run and did my yoga session. I am in pain, but I know it's OK, it's part of the deal. I am touched by her story and connected with her mission on so many levels that I have energy and inspiration left for many more runs. And posts. And work with my clients to make a difference in their lives.
So when people tell me that the social media or web, in general, has a terrible impact on our wellbeing, I stop, raise my hand and start sharing my stories. Stories of people who use it as a platform to share their amazing lives, their achievements and their important voices. People who spread kindness and touch me – whether through direct comments or through the stories shared about them online. People who make me shed tears of joy.
People who reinforce my life philosophy: nothing is impossible.
People like Fiona.
I am so grateful for them and for the opportunity to live in the digital age which allows them a unique voice.
Let's focus on them, let's amplify their voices and made this age work for us all.