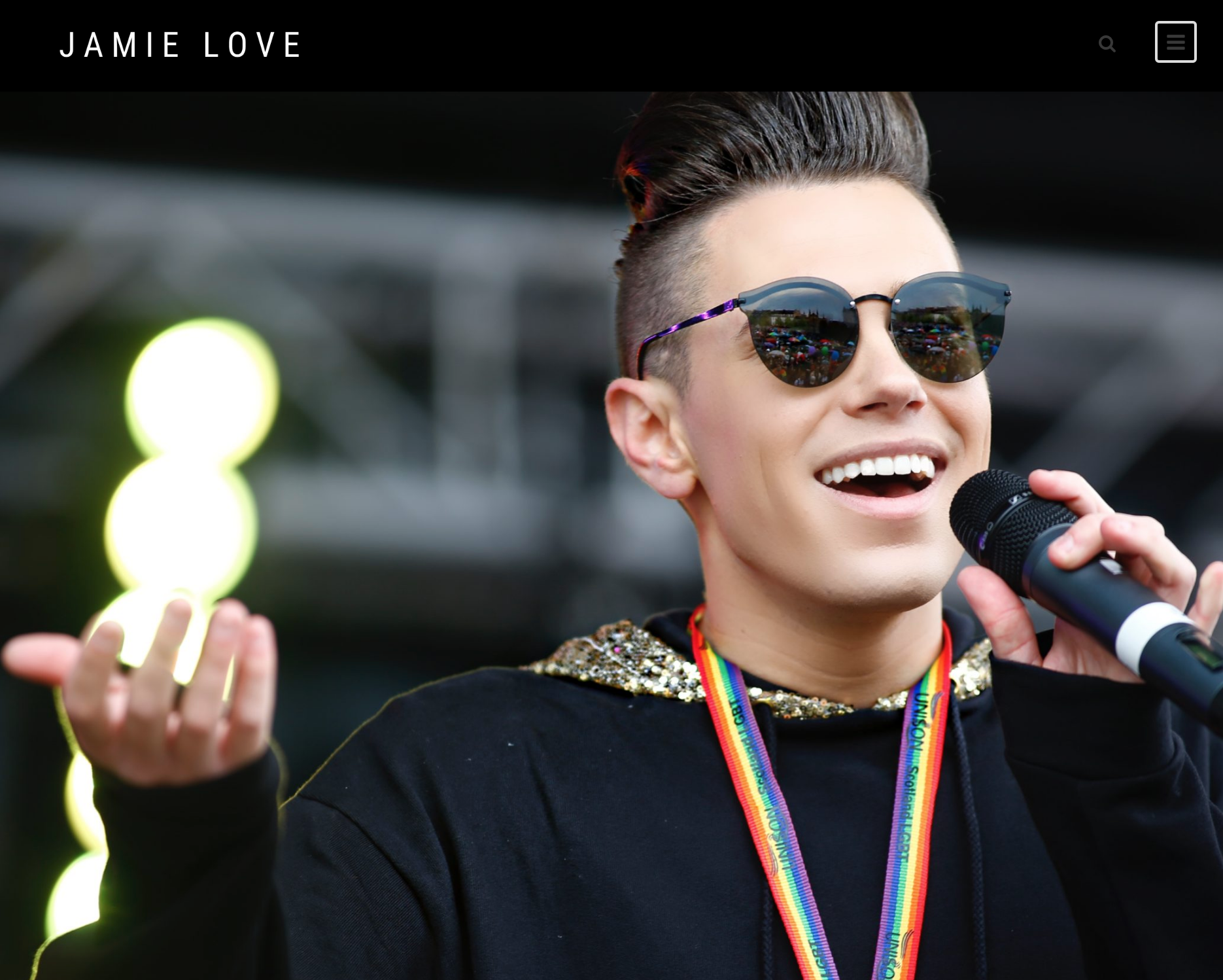 Interview with Jamie Love – LGBTQ+ wellbeing online
Posted by

Date

July 29, 2020

Comments

0 comment
Jamie Love is an international model, host and educator who believes that acceptance is the key to remedying LGBT issues around the world. Jamie is the Marketing Director and Executive Producer for Pride Edinburgh – he has been working with Pride for over five years. His marketing agency, Monumental Marketing, is one of Pride Edinburgh's main sponsors. Jamie has also been a radio host on global online LGBT radio, Xpress Radio.
Let us start by wishing you a belated Happy Pride! How have you celebrated this year?
Thank you! Pride this year really wasn't the same without the physical protest and surrounding events. I did attend some of the online events however, they were really great and a welcomed distraction from all the COVID-19 news! At Monumental, we set up a drag bingo to celebrate pride as a team which was a great opportunity for the team to get together and have a laugh.

In what way has the online world affected the social experiences of LGBTQ+ people – both positively and negatively?
It has definitely been an interesting time when looking at online behaviours. The LGBT community has been lucky in the sense that it has always relied on online experiences more than most. During the lockdown, from my experience, it seemed that people were engaging more and being more proactive with communication creating a real sense of unity online. On the other hand, I can imagine the sense of loneliness has increased. Many LGBT people rely on community spaces that have been closed for months to feel their sense of belonging and be truly themselves. There have been reports that demand for charity services such as helplines increased massively through COVID.

What's your view on the extent to which tech companies have made efforts to ensure their platforms are safe spaces for LGBTQ+ people?

Some platforms have really created great opportunities for the community to come together. Facebook reached out to us at Pride Edinburgh to introduce the new features they created in order to support the community through the lockdown. These features allowed charities like ours to host virtual events as well as collect charity donations.

What work do you feel still needs to be done in this area?
The key puzzle piece missing here is maybe not so much within the LGBT community but rather for the LGBT community. There have been a number of tech platforms that have allowed LGBT people to come together digitally however one of the parts of Pride that hasn't been replicated is the awareness that Pride events create in the wider community. Tech platforms usually tailor content that is seen by each user based on their activity meaning non-LGBT people have had very little contact with the community. This works as a way to enhance people's experiences on platforms but does mean that the level of discovery of different communities decreases massively.

Do you have any guidance on how LGBTQ+ people might engage in activism and political discourse online in a safe way?

My advice is always to get involved in any way that is authentic to you, the importance is support. Black Lives Matter is a great example of how digital communities came together to support and broaden the reach of a community; this should be done every day. Not just during Pride month or when BLM is trendy. In other words, my advice would be to make activism a daily goal.

What were your highlights from the online celebrations of Pride in the last few weeks?
The thing that brought a smile to my face is the number of people that engaged with the online events as well as how hard people worked to set up these events for the community. It was a tough period for everyone, especially when working with volunteer teams. It was great to see humanity at its best.

What are your top 3 tips for the LGBTQ+ community to keeping well online?

My tips to keeping well online are:
1. Be respectful – even if there are points you disagree with, make sure you have a good argument to foster great conversations as opposed to insulting
2. Be quick to block – if there are negative or aggressive people that may affect your mental health don't be scared to block them… out of sight, out of mind.
3. Don't take it too seriously – everyone's life looks amazing on Instagram, 99% of the time it is because they've spent time editing it to look like that! Don't compare and take everything with a pinch of salt. For example, on my Instagram, you will only see the positive highlights – the bad days, the bad moods or negative situations will rarely make it to the 'gram!

What are some of your favourite LGBTQ+ resources and hangouts online that you would recommend?
One of the most entertaining topics has to be RuPaul's Drag Race, you can engage with this topic on any platform. Usually, it attracts humorous and engaging conversations uniting a community that endorses creativity and embraces LGBT culture. Whether you're part of the conversation on Twitter or just love the clips on TikTok, it's always pretty fun!
For wellbeing resources I would always look to Pride Edinburgh or Pride In London websites, there are lots of resources on both of these websites to get support.
Thanks Jamie!