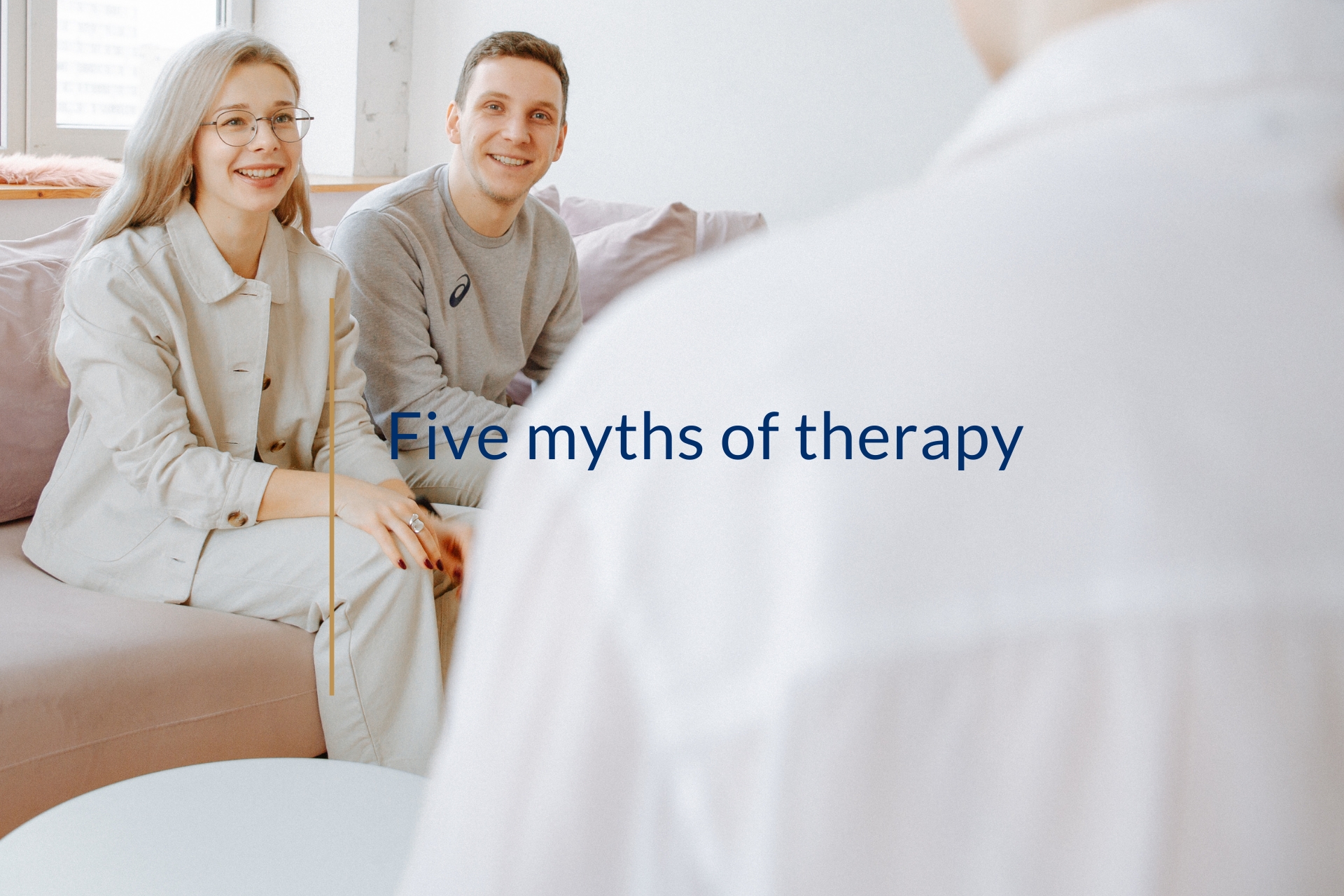 More and more people are open to the idea of seeing a therapist to help with their mental and emotional wellbeing. There's lot of information on the internet about therapy, and it can get very confusing to separate out the facts from the myths. Potential clients have a general idea of what might happen in sessions, and yet many of them arrive in their therapist's office with a set of expectations which may not match the reality of the therapeutic experience and process. Here are five myths about therapy and the reality behind them:
Therapy is 100% confidential
Talking to a therapist about your life and struggles can leave you feeling very vulnerable, so it's important to feel safe and know there is a high level of trust between you. Having said that, no therapist can guarantee 100% confidentiality. There are certain situations in which therapists must share what you've told them with someone outside the therapy room. Therapists are bound by law to disclose any information they hear about terrorism, drug trafficking and money laundering. Therapists are also highly likely to break confidentiality around issues of child abuse or any other situation in which you, or someone you know, is at risk of harm. A therapist will talk to you first before they share any information so that you always know what's going to happen, and be involved in making decisions and have space to share any concerns. Therapists working in organisations may also have to follow its policies around confidentiality. Therapists should have clear and full details of their confidentiality policy in their contracts.
My therapists will tell me what to do
Your therapist will help empower you to find your own solutions rather than tell you what to do. Some models of therapy are slightly more directive than others; for example, CBT (Cognitive Behavioural Therapy) will involve practical steps to help you move through difficulties. That being said, a CBT Therapist will be collaborative in setting up any practical experiments for you to try out between sessions and your voice is the most important one.
Therapy will fix all my problems
This is a common myth about therapy. In therapy, the aim is about effort, not results. This means you and your therapist will be working to raise your awareness and understanding of who you are and your life experiences and challenges.  Some of your difficulties may be resolved as a by-product of increased self-awareness, but ultimately, it will still be your responsibility and choice to change anything in your life which is within your control.
We'll only talk about the past
This will depend on the model of therapy your therapist aligns with. Your therapist will need to understand your past to make sense of your present. However, some models of therapy will pay more attention to the past and its influence on your development than other models. The psychodynamic approach to therapy is one such example. If you're working with a therapist who uses psychodynamic theory, then much of the time will be spent exploring your childhood and the unconscious patterns it's left behind. At the same time, Gestalt Therapy and CBT are based primarily on looking at the present.
Therapy is only for serious and complex problems
Therapy can be an option for serious and complex problems, but it's also a tool for general personal development. Maybe you're curious about who you are or want to be, more productive or improve your confidence, or want to change a particular aspect of your life but feel stuck knowing what to do next. These are all topics to bring to the therapy room and work through with your therapist.
Before making a decision about starting therapy, it helps to really identify what you want from your sessions and then do some research to understand what type of therapy may help you achieve these goals. Find the one which feels like the best fit for you. You also need to be prepared to put in some effort and engage in the process. A therapist is there to guide, support and challenge you, but they can't do the work for you.