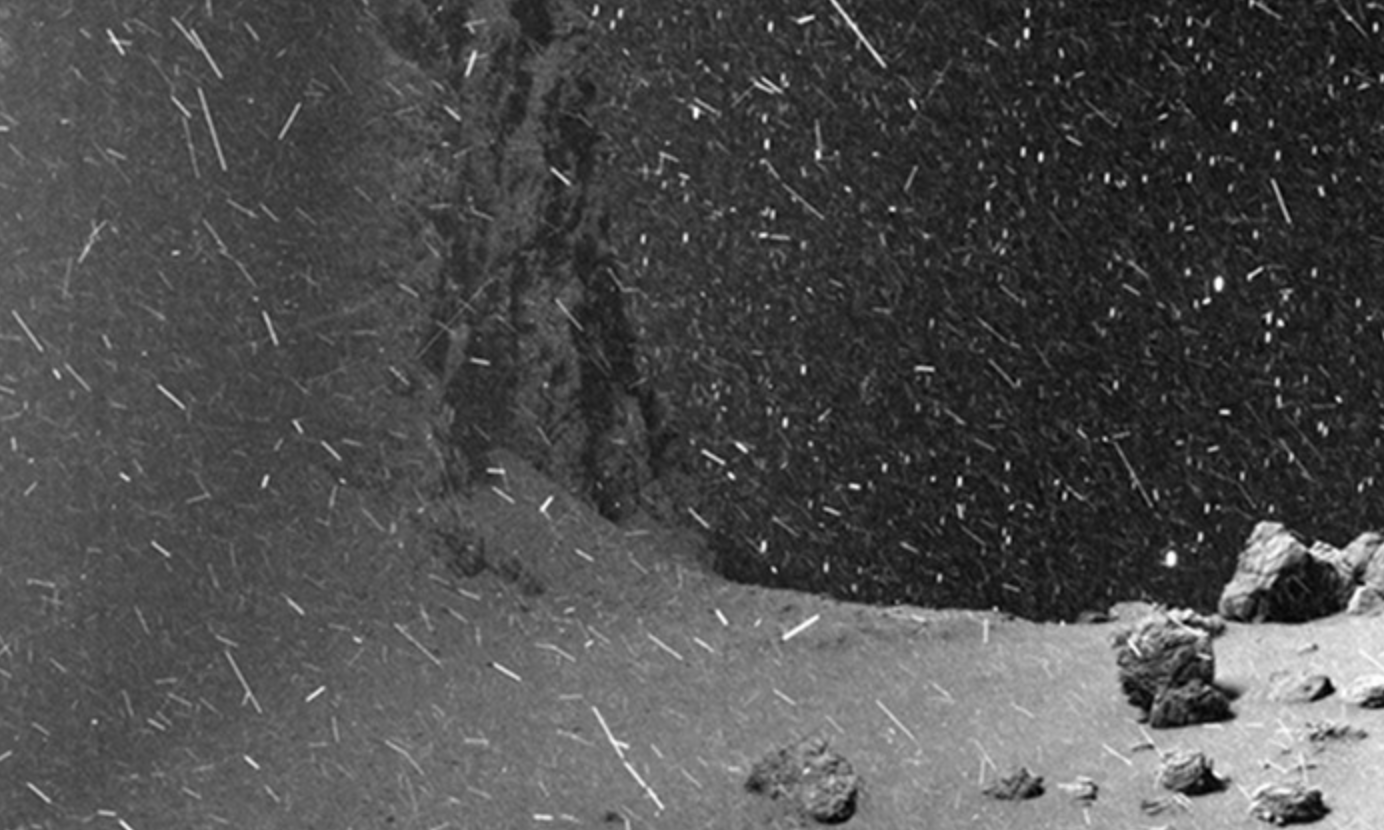 We spend so much time discussing the negative impact of technology on our lives that we tend to forget about its benefits. So today, I would like you to stop for a moment and consider this tweet:
It looks so unassuming, however, this is a .gif made of images posted by NASA here and it features a surface of a Comet.
"You couldn't really be caught in this blizzard while standing by a cliff on Churyumov-Gerasimenko, also known as comet 67P. Orbiting the comet in June of 2016 the Rosetta spacecraft's narrow angle camera did record streaks of dust and ice particles though, as they drifted across the field of view near the camera and above the comet's surface. Some of the bright specks in the scene are likely due to a rain of energetic charged particles or cosmic rays hitting the camera, and the dense background of stars in the direction of the constellation Canis Major. Click on this single frame to play and the background stars are easy to spot trailing from top to bottom in an animated gif (7.7MB). The 33 frames of the time compressed animation span about 25 minutes of real time. The stunning gif was constructed from consecutive images taken while Rosetta cruised some 13 kilometers from the comet's nucleus."
What's the big deal, you say? Well, I am over 40 so for me this IS a big deal. As a child I dreamed of one day going to the moon, walking on a comet or simply getting a better understanding of what is there, amongst the stars I could see above the summer campfire.
It is a big deal. In a single tweet, we can see a mind-blowing perspective on a space object we could not dream of reaching for centuries! NASA's Astronomy Picture of the Day Archive was launched in January 2015 and since then the website offers a fantastic range of daily inspirations – a click away!
This is a big deal for me. I think when we go to Twitter and with a clear intention sign up for the right sources, we can discover so much! Instead of complaining about the content we do not wish to see, we could curate our sources, follow trusted Twitter accounts and allow ourselves a bit of wonder, and who knows…maybe dream a bit bigger this time?